Breaking news!
Our engineers have just developed and constructed a new degassing plant, the CMM-6D, which has been successfully tested and put into production.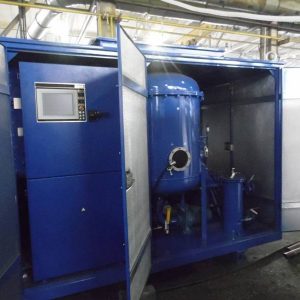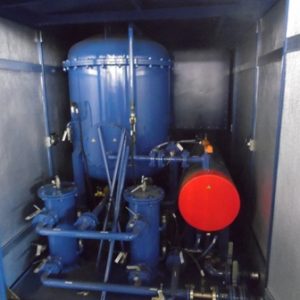 DEGASSING UNIT CMM-6D
Degassing unit CMM-6D has been designed to clean electrical and turbine oils by removing mechanical impurities as well as water and gases using a thermal vacuum purification process.
The main features of this degassing unit are:
1. Automatic Touch Pad Controls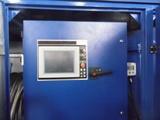 2. Using only one oil pump 3. Operation is controlled automatically 4. Energy saving equipment: oil is heated according to pre-set performance standards 5. Vacuuming of many other types of equipment
The purifier operates in the following modes:
«out vacuum mode»
«heating filtration mode»
«vacuum mode»
«degassing mode»
«manual mode»
Parameters:
1 Capacity, м3/hour
degassing, drying and filtration mode 2-6
heating and filtration mode 2-6
2* Properties of purified oil:
volumetric gas content % 0.5
volumetric water content, ppm, не более 5.0
filtration fineness, microns 1
3.Size and mass, mm
length 3700
width 1750
height 2320
4. Mass, kg 2600 Oil reclamation equipment will extend life of your transformers and safe your money.