After a long period of operation, transformers experience failures and breakdowns. The failures are generally prevented by planned service and maintenance. If maintenance detects a fault, the transformer is taken for repairs. It would be too costly for an enterprise to buy a new piece since a transformer is a very expensive unit. Dry air systems are used in many industries, especially in the electric power industry. It is due to the features of design and operation of power transformers. Transformers are designed to convert large voltages that cause overheating and require an insulation system to convert the heat from the active parts. One of the significant disadvantages of transformer insulation is its hygroscopicity, i.e. the ability to absorb moisture from the environment when a transformer is depressurized. Therefore, any repair work should also include a system that protects an insulation from moisture.
What if there is no dry air system?
110-330 kV power transformers with less than 400 MVA, can be opened without a dry air system. With depressurization the moisture will get into insulation, therefore, in order to reduce its amount, all work must be performed as quickly as possible. The following conditions must also be met:
relative humidity (RH) of the environment below 85%;
duration of partial depressurization less than 20 hours, and full depressurization less than 16 hours;
temperature of transformer active parts below 10 ° C;
temperature of transformer active part higher than  ambient air dew point by 10 ° C at full depressurization and by 5 ° C – at partial depressurization.
To reduce the likelihood of moisture ingress all repair-work is performed in dry and clear weather. Also a depressurization is preceded by heating a transformer. Correct execution of this procedure allows to slow down the ingress of moisture by insulation.
Methods of heating transformer insulation
The methods of heating transformer insulation before depressurization:
operation of induction coils;
electric furnace heaters under the bottom of the tank;
heating oil with subsequent circulation in the tank;
DC heating.
Induction coils are often used for drying, although heating of  transformer before depressurization is not their main function. Also this method is rather laborious. The use of electric furnace heaters is not an optimal solution, which is due to their low efficiency and high fire hazard. The circulation of  heated oil in transformer tank is used more often than all the above methods, but it is also has shortcomings, which are manifested in handling large quantities of oil (pouring, draining, etc.). The method of heating a transformer using direct current is based on passage of DC current through the windings of high and medium voltage As a result, the  windings generate the heat,  heating the transformer. In this case, the current should have the nominal value. The overall efficiency of the process depends on the correct calculation, based on the known resistance and nominal values ​​of the winding currents, as well as the connection scheme.
Dry air unit from GlobeCore
At all stages of transformer tank opening (depressurization) during repair work, maintenance and servicing, it is important to ensure that moisture from the air does not get inside a transformer. The Mojave Heat unit is designed specifically for drying the air in transformers. In addition it cleans the air from mechanical impurities. The air is dried and cleaned as it passes through sorbent. The versatility of this equipment is the ability to regenerate the saturated sorbent inside the unit,  and also the sorbents from other units. The drying temperature should not exceed 400 ° C.
Technological scheme of dry air system
The dry air unit consists from one/two sorbent columns filled with zeolite, a blower, a dust filter, an air distributor, control valves and a control cabinet. The unit has an air inlet at the blower, a hot air outlet after adsorbent regenerating.
Using Mojave Heat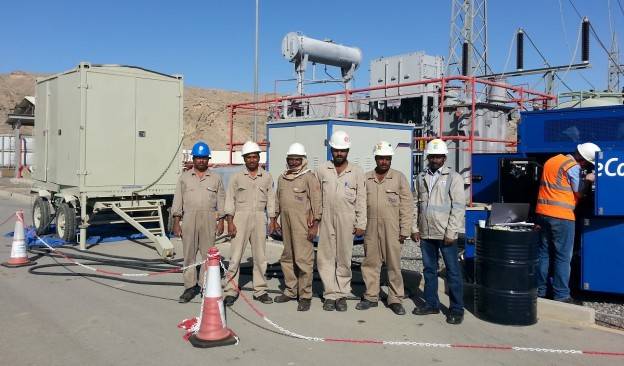 Before transformer depressurization and connecting a "Mojave Heat" it is necessary to study the technological scheme, nodes and features of a transformer. Drying air with Mojave Heat unit has the following features: – a transformer is heated to 60 – 70 ° C; – an active part temperature during depressurization is of 10 ° C max, not exceeding ambient air dew point in more than 5 ° C; – the service time of the transformer is regulated by the "Electrical Equipment Testing Standards" and strictly observed.
Stages of power transformer repair:
preparation works;
disconnection of busbars;
disassembling a cooling system;
transformer transportation to a service place;
heating of transformer;
disconnection of transformer bushings;
repairing a cooling system;
fixing isolation valves;
dismantling of  transformer;
fixing bushings;
repairing a mode switching regulator;
repairing and testing an active part;
repairing a tank;
assembling a transformer;
filling with oil;
heating and testing a transformer;
transformer transportation and installation on site;
final works.
Operating principle of a Mojave Heat unit
In a Mojave Heat unit the air is dried in two autonomous adsorbent columns with synthetic zeolite and cleaned from mechanical particles in a dust filter. The unit is transportable and mobile, it's design allows to connect directly to transformers on site.
Automation of Mojave Heat dry air system
Mojave Heat has a semi-automatic control system that can be adjusted manually. In manual mode the operator monitors compliance with technological norms and rules. Automatic control helps to avoid the possible operational errors and a human factor, it minimize accidents, which can pose a threat to health and safety of operators. Also there is a safety feature  that does not allow the unit to start if the operator's actions were not performed correctly. The flow, temperature and pressure parameters at the output are set  by an operator, and controlled in a close loop. A unit's automatic control system is provided by an industrial controller, a set of modules of remote input and output and various sensors and valves. Also, an automatic "Mojave Heat" is equipped with the frequency converters that control the amount of air necessary to purge the transformer tank or regenerate the adsorbent. A PID controller  provides set-point temperature of the heater and allows to significantly increase the energy efficiency of the equipment.
Additional features of Mohave Heat:
delivery of the equipment on site (in accordance with the rules and regulations);
automated process control;
a dew point sensor at the output;
a cooling system operating on air flow;
a flange for connection (if necessary);
an automatic or semi-automatic control system (on customer request).
Designs of dry air system
Dry air system "Mojave Heat" is designed:
in a container, that complies to the European Union standard  for operation in open areas.
on a trailer, fully equipped for traveling on roads. A trailer has a brake system, parking brake system, stop light and warning light. Also included is a spare wheel, a tool box and spare parts.
Advantages of Dry Air System "Mojave Heat"
Using Mojave Heat during depressurization of the active part of transformers allows to:
protect the insulation system from moisture;
carry out depressurization in several stages, with a complete assembly of transformer;
prevent heating of transformer.