Pepper milling is a technological process for grinding a product to obtain a powdery constituent used as a base, an additional or active ingredient in the production of food supplements, spices, mixtures, ointments, and aerosols. In order to grind pepper on an industrial scale, special mills are used. Some of them operate according to the principle of pulverizing the product, others crush or smash it. But an innovative technology using an electromagnetic field stands out against the background of these conventional methods. Let us consider what it means, why it is needed, and why this pepper milling method outmatches classical options.
Application of ground hot pepper
Ground hot pepper is widely used in the following fields:
Cooking.

It is used in the production of spices, ketchups, adjika sauces, regular sauces, and food supplements. In addition, ground pepper is used in cooking as a separate product.

Medicine.

Ointments, adhesive plasters, medications, products for conventional and alternative medicine are made on the basis of this constituent.

Cosmetology. Ground pepper has become an active constituent in a number of cosmetic products for skin and hair care.
Production of non-lethals, gas spray guns, personal protective equipment. The ingredients extracted from pepper, including oleoresin capsicum, are used as a base for the concentrates applied in pepper spray cans, sprays, aerosols.

Depending on the method of application, a certain degree of pepper milling is needed. While coarse, medium milling is suitable for cooking, or even a crushed product of 1–1.5 mm is used, more thorough milling is required in other cases. Depending on the field of use, superfine and ultrafine milling is applied as a result of which the peppercorns are milled into fractions of only a few micrometers in size. Fine and ultrafine milling is suitable for preparing the powders, creams, pastes, concentrates, etc.
Methods of pepper milling at production site
Conventional pepper milling is carried out using the following types of devices:
Hammer mills
Pepper grinding is ensured by means of hammers driven by a rotating rotor. The pepper enters the operating chamber, becomes ground, and is discharged outside through calibrating sieves when a certain fraction is achieved. The equipment is distinguished by high capacity, maintainability, and durability, but it is quite noisy. At the outlet, we obtain a product with high homogeneity. However, raw material grinding requires a certain degree of drying. It won't handle a wet product.
Ball-tube mills
The equipment constitutes a rotating tube with balls or rods inside serving as working members of mills. The equipment is distinguished by energy intensity, noisiness, and requires repair and maintenance on a regular basis. However, in this regard, it ensures product milling at an adequate quality level.
Pin mills
The principle of operation consists in grinding the product by mechanical crushing, pulverizing, and breaking of the particles falling between the discs with pins located on the same axis. The technology is widely used in the food industry. It deals with grinding the product to a size of several microns.
Some machines use a few conventional milling methods at once for pepper grinding. Smashing and pulverizing, or impacting and pulverizing are combined. But such technologies are still inferior to modern solutions — vortex layer devices — in terms of efficiency. The latter ensure an optimal approach to product grinding by means of a rotating electromagnetic field. Unlike conventional methods of grinding the free-flowing products and spices, this technology emerged 50 years ago and is becoming popular now.
Innovative technology for hot pepper milling by means of a vortex layer device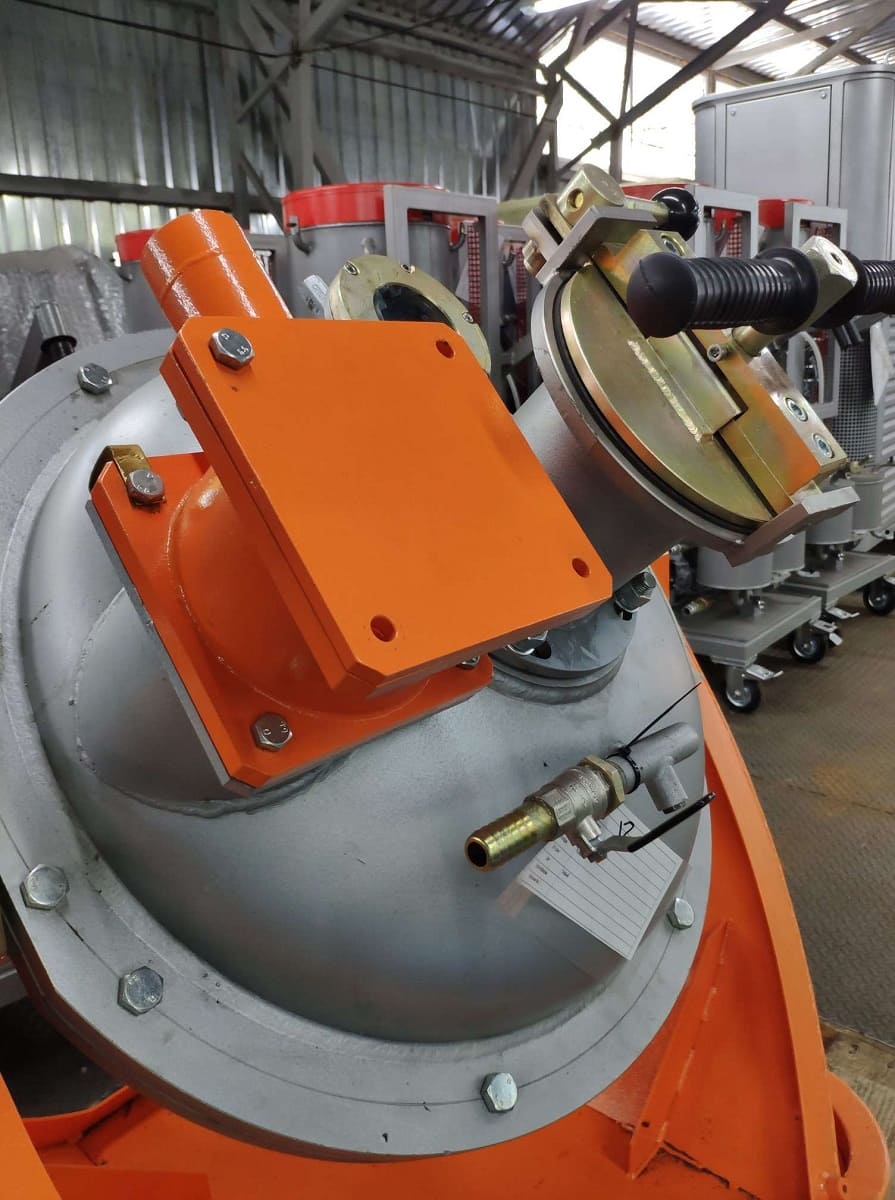 For efficient pepper milling with minimum consumption of time and energy resources, modern equipment — a vortex layer device (AVS) — can be used. It is a versatile device that functions as a mill and a mixer for preparation of mixtures.
This is a unit with an operating chamber in which ferromagnetic particles move when exposed to an electromagnetic field created by an inductor. Pepper milling in AVS occurs due to the collision of product particles with ferromagnetic needles, with one another, and with the chamber walls. Grinding is carried out in an environment of high local pressure, acoustic vibrations, electromagnetic processing which influence the milling efficiency and the final product fineness. Pepper grinding is carried out until micron particles have been formed.
In this case, the milling fineness can be controlled and adjusted. All it takes is to change the grinding duration. The longer a batch of raw materials is processed, the finer product we obtain at the outlet.
The distinctive feature of an electromagnetic pepper mill is its suitability not only for grinding the product, but also for mixing it with other constituents. For instance, in addition to hot pepper extract, other substances referred to as irritants are used in the production of mixtures for pepper sprays. In the field of cooking, ground pepper is mixed with other ingredients to prepare finished mixtures, seasonings, and sauces. One of the main tasks as part of making such products is to mix the constituents in a prompt, good-quality, and even manner. It can also be done using AVS device.
The technological process of mixing with ferromagnetic particles in a vortex layer is accompanied by even mixing of constituents that prevents their further separation at the outlet. In this case, we obtain a finished homogeneous mixture several times faster than in the event of conventional production methods. Moreover, AVS device consumes less energy in the process of pepper milling and mixing with other constituents. This is due to the fact that the consumed electricity is spent on creating an electromagnetic field only. In this regard, the device can handle both dry mixtures and liquids.
Advantages of hot pepper grinding in a vortex layer device
The innovative technology of pepper milling by means of AVS device is distinguished by the following advantages compared to conventional grinding methods:
Versatility.

Suitable for coarse, medium, fine, superfine and ultrafine pepper milling in both dry and humid environments. All of that is performed by one device.

Multitasking.

In addition to mere milling, it is possible to prepare dry, wet mixtures, pastes, creams with several constituents directly within the device. The outlet product is distinguished by homogeneity and high degree of mixing the ingredients without further separation.

Cost effectiveness.

It consumes several times less energy than conventional equipment. At the same time, it processes the pepper much faster, thereby reducing the time spent on the technological process.

Reliability.

A simple design is distinguished by wear resistance, withstands heavy loads, and is not demanding in operation.

Ease of use.

The equipment is easy to maintain and does not require special pedestals for installation, as well as fixtures and structures as part of operation. It is  compact and ergonomic.
An electromagnetic mill for pepper grinding is a modern, energy efficient, and versatile unit for optimizing the production processes in the food, pharmaceutical, and weapon manufacturing industries. Using the unit can accelerate the processes and reduce the load on the lines for production of ground pepper as a separate product or a constituent used in the manufacture of spices, medications, pepper sprays, aerosols, ointments, and adhesive plasters.