Transformer oil reclamation to Kyrgyzstan
 In December 2015 our company's specialists visited Kyrgyzstan (the cities of Bishkek and Osh), where they made several presentations for the power industry representatives.
The presentations were focues on transformer oil regeneration process to improve transformer reliability and extend lifetime. GlobeCore offers unique technology, which allows to restore used transformer oil to "as good as new" condition. This is done by the company's CMM-R and UVR units.
During regular transformer oil change, up to 15% of the contaminated oil remains in the transformer windings. It is this remaining liquid which significantly accelerates the aging of new oil. CMM-R's obvious advantage is the capability to regenerate insulation liquid directly in the transformer online. When the recondition unit is conneted to the transformer, the oil circulates between the reclamation unit and the transformer. The flow of oil and vibrations of the transformer allow to remove all oil and residue. This facilitates full restoration of the insulation fluid.
Using GlobeCore's oil reclamation technology allows to:
protect solid insulation;
process oil directly on site;
employ only one operator for process control;
reduce the cost of oil disposal and purchase;
eliminate contact of transformer core with air;
improve the oil's oxidation stability.
The CMM-R units consist of several sections, so if necessary, degassing only may be performed.
Operation of the unit is based on the use of a natural sorbent, Fuller's earth, which can be reactivated (restored) directly during operation of the unit. The sorbent can be reactivated up to 300 times, the equivalent of 2-3 years of operation.
After speaking about the equipment, as usually, GlobeCore's representatives demonstrated the capabilities of the oil reclamation technologies using a laboratory demonstrator UVR unit. The issues of practical application of this process were also discussed.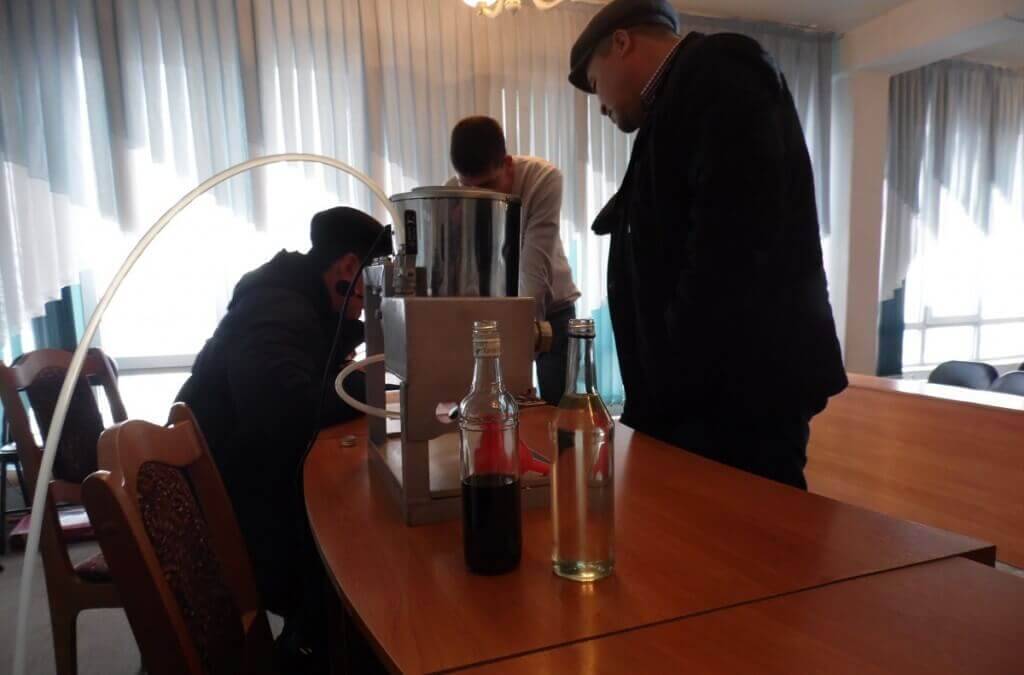 The table below shows the paramters of oil before and after oil reclamation using teh UVR demonstrator.
Transformer oil parameters before and after oil reclamation using the UVR unit
No

Parameter

Required value

Oil analysis result

Dry clean oil

Oil in operation

Before oil reclamation

After oil reclamation

1
Dielectric stregth, kV (for 15-35 kV systems)

30

25

10

40

2
Water extract reaction

Neutral

0,03

0,077

Neutral

3
Acid number, mg KOH/g

0,05

0,25

0,26

0,01

4
Flashpoint, ºС

135

135

153

150

5
Color

light yellow

yellow

dark yellow

clear

6
Particulate matter

None

–

None

None

7
Moisture, ppm

None

None

106,7

11,4
The laboratory running the analysis certified the oil fit for operation (according to standards in effect in Kyrgyzstan). Again, these results were obtained by regenerating oil using laboratory demonstrator equipment with somewhat limited capabilities. Large stock units perform even better.
GlobeCore thanks the Kyrgyz collegues for their assitance in organizing the presentations and for their interest in our products.