Linoleum production is considered to be a promising area due to the high popularity of this flooring. The inexpensive, practical, and high-performance material is distinguished by low cost price and manufactured on the basis of simple technologies.
A linoleum production plant with only 4–5 lines can produce more than 100 million square meters of products per year.
Reasons for popularity of synthetic linoleum
Modern linoleum production is focused to a greater extent on manufacturing synthetic products. It is more affordable, more practical to use, and distinguished by thermal plasticity and environmental safety.
In order to compare natural and synthetic products, let us discuss the technologies for obtaining them. The production of the first type of material is based on using a mixture of oxidized linseed oil which is linoleum cement. Next, the raw stuff is cooled, and resins and wood chips are added thereto. Sheets are made from the mixture. And synthetic material is made on the basis of polyvinyl chloride — it is cheaper and easier.
Comparatively simple production technology and availability of raw stuff made the synthetic version of flooring one of the most relevant. Modern material is distinguished by its resistance to mechanical stress, abrasion, and temperatures. It is characterized by a wide variety of colors, textures, and types. Due to being positioned in the accessible market segment, synthetic linoleum remains in demand among mass consumers.
At the same time, linoleum production plants are equipped with increasingly more modern, productive equipment, and new technologies for obtaining this material are developed. This approach allows making linoleum even more affordable and ensuring the higher quality thereof, while production becomes simpler and more efficient.
Requirements to quality of linoleum
Linoleum means roll-up flooring based on polymeric materials. It is used in arrangement of the following types of premises:
living rooms, corridors, kitchens, bathrooms, and terraces;

offices, shops, cinemas, and other commercial properties;

gyms, warehouses, etc.
Depending on the ​​application, linoleum can be household, commercial, semi-commercial, and special. Furthermore, the material is divided into 10 classes depending on the type of premises and the load intensity. It can be homogeneous (smooth) or heterogeneous (multilayered). A napped, foamed base can be used in the material. There are baseless options as well.
All these types of linoleum are made from specifically prepared polyvinyl chloride mixtures. The quality of flooring largely depends on their composition and the product homogenization. Thus, during production, it is particularly important to mix the ingredients properly and to build up a homogeneous mass with reacted particles throughout the volume.
Linoleum production — conventional approach
The following technologies for synthetic linoleum production are distinguished:
Roller-calender technology
The first stage of linoleum production involves mixing the ingredients. Synthetic polyvinyl chloride is mixed with additives, cork and wood flour, as well as mineral fillers. The prepared mixture is applied to the base which may be represented by a fabric product. The workpiece is rolled on shafts. At the next stage, the material is processed with an acrylate dispersion and dried.
Homogeneous linoleum production
Other production method involves rolling the finished mass on press molds. That's the way to obtain a homogeneous material. The production is based on preparation of a completely homogeneous web.
There is also a coating method for linoleum production. A layer of polyvinyl chloride mixture is applied to the fabric base. Next, the product is placed under the press.
After preparing the polyvinyl chloride composition, a bottom layer with a foam backing or a fabric base is made. Next, the two layers are connected using an extruder. It is followed by ironing in a calender, shrinking in a thermal chamber, cooling, cutting and packing into rolls.
Regardless of the production method, the first stage looks the same. It involves preparing a polyvinyl chloride mixture. Screw and drum paddle-type machines are used for this purpose. Binders, fillers, and pigments are mixed therein at the temperature of 95–100 °C. Processing the mixtures by means of such equipment implies long duration of homogenization processes. At the same time, the technique is characterized by low efficiency and high electricity consumption.
In addition, there is one special aspect in linoleum production. The basis here is the process of mixing the multicomponent systems, including polymers, fillers, dyes, plasticizers, and other additives. The ratio of ingredients varies over a wide range. Auxiliary substances are used here in very small amounts. This is what the complexity of linoleum production by classic methods consists in, because a scanty part of an ingredient or substance must be evenly distributed in the volume.
For example, only 1 kg of calcium stearate is used per 2.4 tons of mass. It is extremely difficult to achieve uniform distribution of the additive throughout the volume. In order to do that, the whole mixture must be thoroughly stirred. It is a time-consuming and resource-intensive process when conventional methods are applied.
The special aspect of linoleum production associated with distribution of a small amount of additive in a large volume of the main ingredients makes relevant the use of a vortex layer device (AVS) in the technological process. Moreover, the process of dispersing the ingredients is important. It is almost not observed in conventional mixers, but it occurs at a high level in AVS which eventually affects the mixture quality.
Linoleum production technology using AVS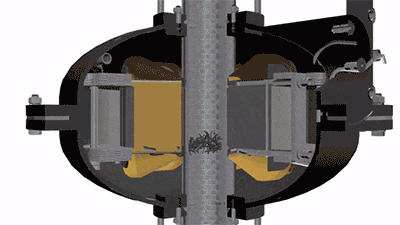 The linoleum production method using GlobeCore vortex layer device constitutes intensive mixing of ingredients when they are exposed to an electromagnetic field. The ingredients are fed into a non-magnetic chamber supplied with an inductor. It also contains ferromagnetic particles.
The inductor generates an electromagnetic field which turns the ferromagnetic needles into diminutive mixers. They intensively move through the chamber, rotate, collide with the chamber walls, with one another, and intensify the homogenization process. All of this occurs due to acoustic vibrations, electromagnetic processing, dispersion, electrolysis, and high local pressures. As a result, we obtain a stable, homogeneous mixture in a matter of minutes.
The technology addresses the task of high-quality distribution of additives in a large volume of the main raw stuff. At the same time, the process takes several-fold less time than in the event of classic technologies. Having provided a linoleum plant with such equipment, it is possible to:
intensify mixture preparation processes;

improve the product quality;

reduce the energy consumption of technological line;

achieve an increase in enterprise productivity.
The efficiency of the linoleum production method using a vortex layer device was proven experimentally. The tests show that the compounds mixed in an electromagnetic field environment produce a better and more durable product. Just after 1 minute of stirring the mixture based on polyvinyl chloride resin, a material was obtained as 10% stronger on the base and 20% stronger on the weft. The thermal resistance of the material doubled.
Therefore, equipping a linoleum plant with a vortex layer device is a fairly relevant solution. Modern models of this equipment can be selected and ordered from GlobeCore.
Advantages of using a vortex layer device in linoleum production
It makes sense to equip both a large-scale enterprise and a compact linoleum production plant with a vortex layer device for the following reasons:
     

Improving the quality of linoleum
Even short-term processing of mixture by means of AVS allows improving the operational properties of the material to a great extent and making it stronger and more durable. The strength increases by 10–20%, and the thermal resistance doubles.
     

Resource saving in linoleum production
The process of mixing the ingredients takes minutes and consumes several times less electricity than that in linoleum production by conventional methods. The power requirement of the models represented here with us equals 4.5 and 9.5 kW.
     

Ease of integration into the linoleum production line
AVS-100 and AVS-150 from GlobeCore are distinguished by compactness and small size. They require no pedestal; they are easy to move through the enterprise's workshop and can be integrated into the existing line without difficulty.
     

Intensification of mixture preparation processes
Unlike conventional paddle-type machines where the homogenization process takes hours and requires plenty of energy resources, mixing in AVS occurs faster, and the result proves to be better.
GlobeCore equipment is distinguished by a simple, reliable design; it is very easy to operate. The equipment ensures the intensification of the most important process in linoleum production which is mixture preparation. Furthermore, at the outlet, we obtain the raw stuff with a high degree of homogenization which is necessary to produce high-quality flooring. You can contact GlobeCore sales representatives to get advice and to order a vortex layer device for a linoleum production plant.