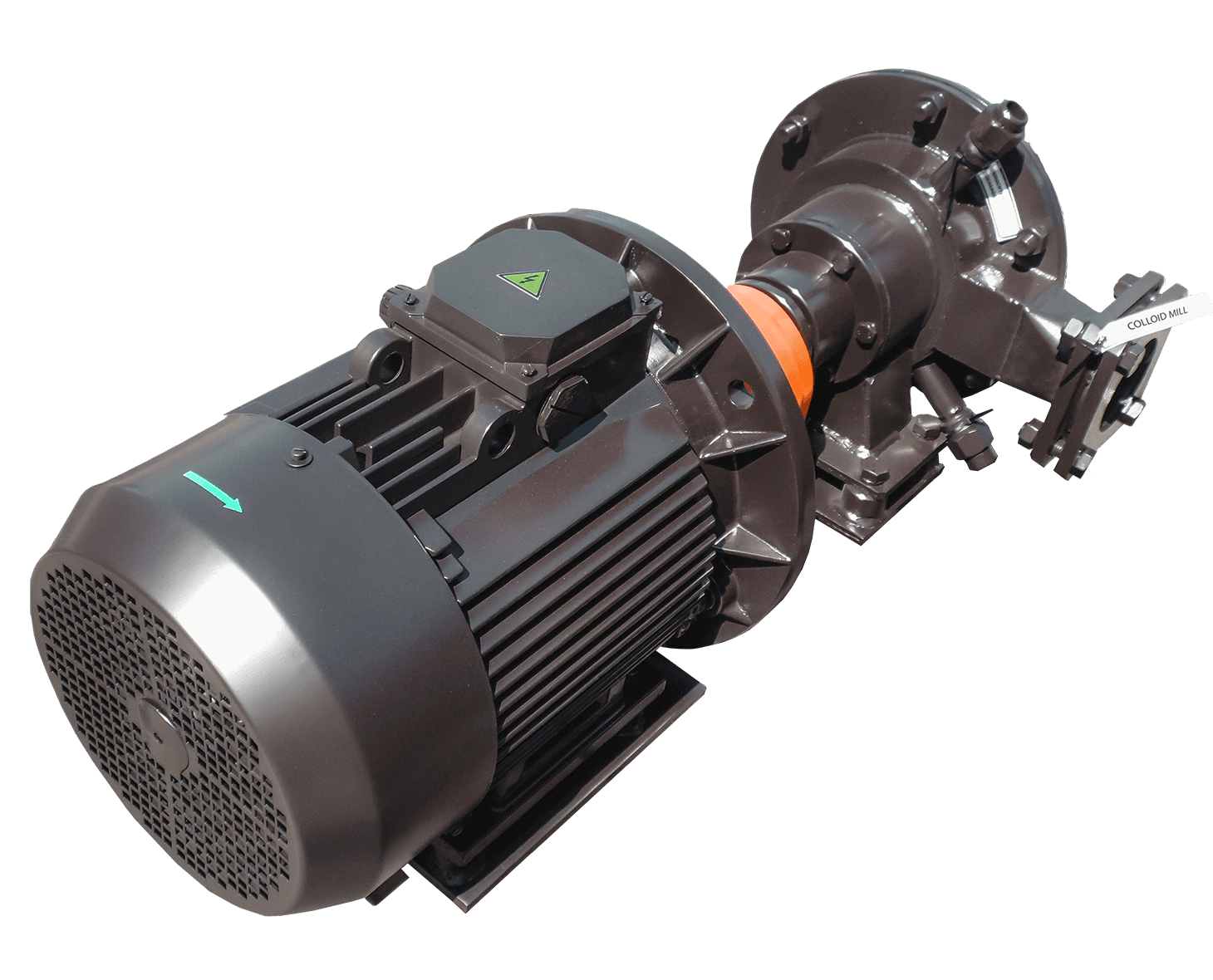 grinding and milling
The CLM Colloid mill is designed specifically for the production of highly stable colloidal solutions, fine suspensions, mixtures and emulsions. It uses the principle of "wet" grinding due to the conical rotor and stator that have larger width entries and narrower exits. Additionally, the complex geometric surface of the rotor creates greater turbulence which breaks the particles apart.
Under centrifugal force and high relative speed between the rotating rotor and the fixed stator, liquids and semi-liquids become emulsified, finely dispersed and homogeneous mixtures.
The CLM colloid mill is specifically designed for production of highly stable colloid solutions, super-fine suspensions and emulsions. The mill applies the wet milling principle due to the rotor and stator cones' larger gap width at the input and smaller gap width at the outlet. Additionally, the complex geometry of the rotor surface creates intensive turbulence to shear particles
COLLOID MILL CLM-4

PRODUCTIVITY UP TO 4 M ³ / HOUR
The mill features high production rate; it allows to produce highly emulsions as well as colloid suspensions, and ensures high degree of homogenization with particle size down to 1 micron.
The mill can be retrofitted into existing lines of production. To facilitate high quality grinding, the product must enter the mill at designated solid to liquid phase ratio and constant rate.
СOLLOID MILL CLM-18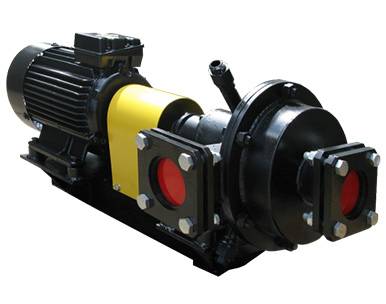 PRODUCTIVITY UP TO 18 M ³ / HOUR
The mill features high performance capacity, allows to produce highly emulsions, as well as colloidal suspensions, ensures high degree of homogenization and particle size to 1 micron.
Processes are intensified by 100 – 600% compared to agitator.
Besides, the device creates cavitation, i.e. explosion of caverns by internal pressure.
The mill can be retrofitted into existing production lines.
COLLOID MILLCLM-22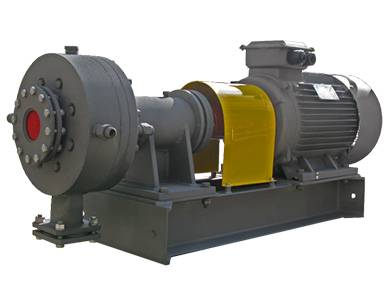 PRODUCTIVITY UP TO 22 M ³ / HOUR
The centrifugal force and high velocity of the rotor relative to the fixed stator cause liquid and semi-liquid materials to become homogenic and finely dispersed.
The mill simultaneously disperses and homogenizes materials.
A heat jacket allows to apply or dissipate heat to or from the grinding zone.
Colloid mills and their modifications are applied in:
road-construction industry – for bitumen modification by polymers etc, for producing anionic and cationic bitumen emulsions, liquid rubber and so on.
machine-building industry – for production of lubricating and cooling emulsions, lubricants, process mediums for cooling in heat intensive processes.
power industry – for "heavy oil + water" emulsion production and burning in boiler houses and other power generation systems (reduces heavy oil consumption by 7-10% due to increased degree of combustion efficiency, boiler efficiency increase by 2-3%, decrease of carbon and nitrogen oxide emissions to the atmosphere up to 50%,  waste product disposal). Conversion of liquid oil waste products into fuel (oil refinery, seaport, industrial waste). Mixing of stable fuel emulsions from oil sludge.
chemical industry – for improvement of interphase component contact in multiphase heterogeneous systems, for extracting, for  oil product and waste water purification, for production of household chemicals, glues, varnishes, polishes and antiseptics.
varnish-and-paint industry – for paint production.
food industry  –  for dairy processing, for fat emulsion production, for corn starch production, for making of fruit puree, mayonnaise, yoghurts, soft cheese, kefir, condensed milk, melted cheese, for milk powder and cream recovery.
pharmaceutical, perfumery and cosmetic industries – for production of high quality stable shampoos, gels, creams, emulsions, medical products, ointments, pastes.
No
PARAMETER
CLM – 22
CLM – 18
CLM – 4
1
***Capacity rated, m³/hour, up to.
22
18
4
2
Operating pressure, bar.
0,5
0,5
0,5
3
Rotation speed, RPM
3 000
3 000
3 000
4
**Max heat carrier temperature, °C
160
160
160
5
**Minimum coolant  temperature, °C
-4
-4
-4
6
Dispersion, micron
<50
<50
<50
7
Nominal pressure/suction bore diameter, mm
80/120
80/80
32/65
8
Drive power, kW
55
11
5,5
9

*Dimensions, mm

– length

– width

1440

430

1000

400

960

310

10
Weight, kg
490
135
125
Note
* – Dimensions are driven assembly.
** – If necessary, the product can be either heated or cooled to a desired temperature.
*** – Depending on the physical and chemical characteristics of the product capacity may vary.
GlobeCore is a machine-building factory that develops and manufactures high-quality equipment for regeneration, restoration and preparation of oils, preparation of bitumen emulsions and various polymer-modified industrial fluids. GlobeCore equipment earned a reputation of reliability and efficiency and is in steady demand in more than seventy countries of the world. Annually, the company produces hundreds of units for emulsification, dispersion, wet grinding and mixing of solids and liquids. These units are colloid mills and homogenizers for wet grinding. Before they are supplied to the customer, each unit passes an obligatory factory test to guarantee the quality of the prepared colloidal solutions, emulsions and suspensions. Therefore, GlobeCore engineers are constantly at work improving this small, but important machine.
With the help of modern software, GlobeCore designers calculate colloid mill (homogenizer) hydraulics and the patterns for the working surfaces of the rotor and the stator. Every detail of the colloid mill corresponds exactly to the blueprints.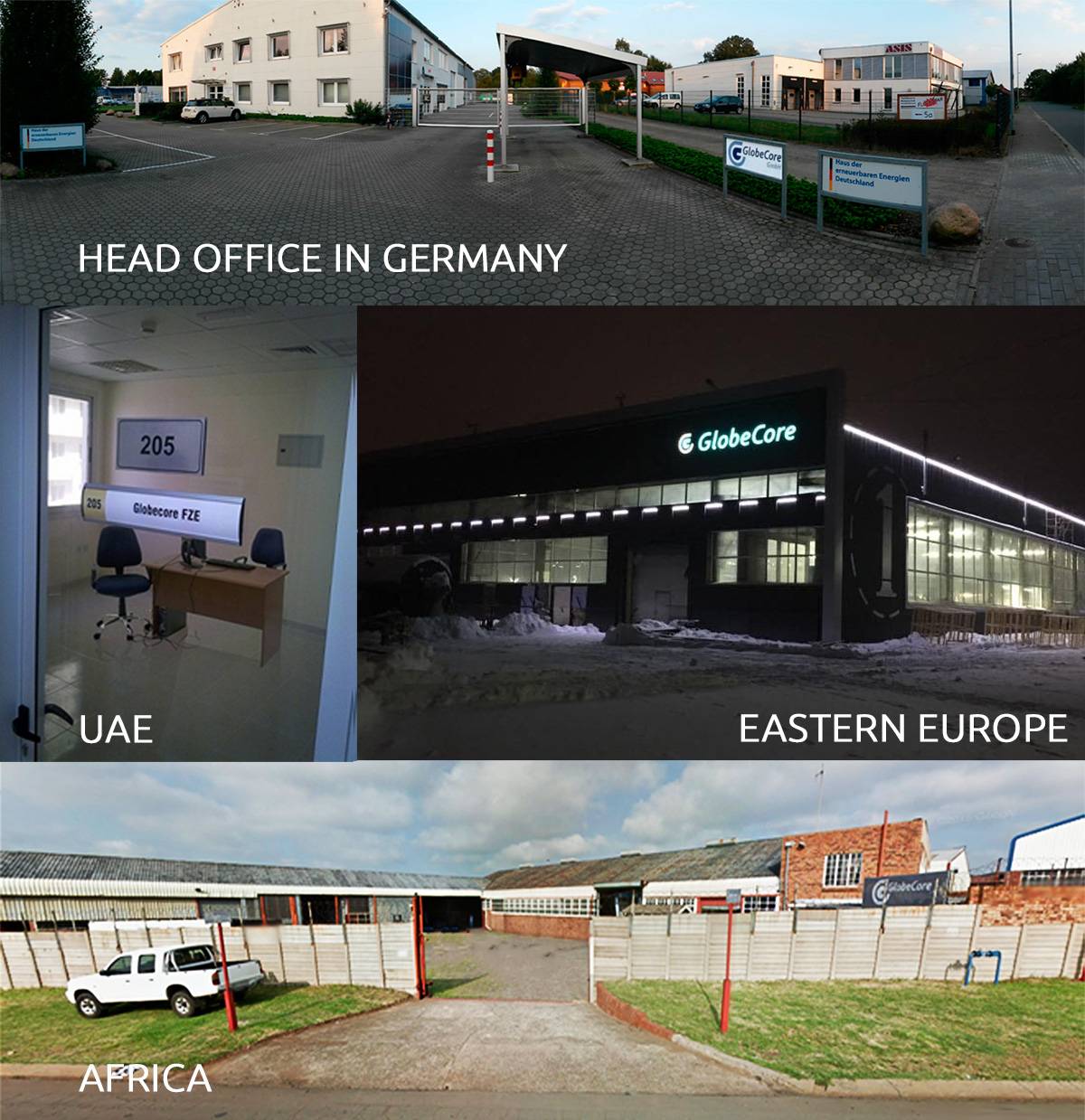 обновлено:
May 15, 2017
автором: