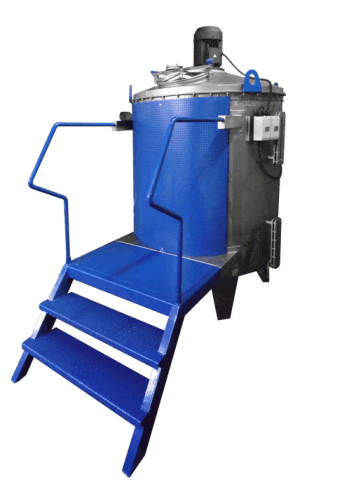 The following information may be of some value to the facilities that produce food, pharmaceutical, paint and varnish products.  A container with an agitator features a vertical cylindrical unit with a blending device that ensures:
blending of different suspensions;
acceleration of chemical reactions;
blending of the mutually soluble medium;
intensification of the mass exchanging process;
intensification of the heat exchange process;
dissolution of solid and paste-like substances in liquids;
blending of viscous and liquid food products of several components.
GlobeCore containers with an agitator produce high-quality blending, dispersion, and homogenization and can be used virtually in all sectors of the food processing industry.  GlobeCore containers perform different technological processes at food production facilities.  The use of the containers with an agitator has proven to be highly efficient.
GlоbeCоre equipment is used for the production and storage of highly stable suspensions and emulsions consisting of several components.  The final product can be stored in a container with all the qualitative characteristics preserved due to maintenance of appropriate temperature regimes.  The production of blending units is one of  GlobeCore's top-priority goals.
Due to modern equipment and skilled specialists, we can produce within a short time high-quality containers with agitators to meet the needs of the hi-tech market.
GlobeCore equipment can either be batch-produced or custom-made.  Batch-produced models can be purchased directly from the warehouse.  Containers may be of different capacity and equipped with different types of agitators either for a neutral or aggressive media.
The GlobeCore production facilities are located in Oldenburg, Germany.  It does not take much time to commission the containers with blending units.  As long as a customer creates all the necessary conditions for the commissioning, equipment can be successfully delivered anywhere in the world with minimal lead times.
Our specialists are always ready to set up a container with an agitator and to train the staff of your company.  Special attention should be paid to the containers with agitators used in food industry to produce:
ketchup;
mayonnaise;
mustard;
different sauces; and
desserts  and others.
Once you are reading this, it means that you are possibly:
An owner of the public catering enterprise.  Do you value your reputation and need only high-quality food products that can be stored up for a long period of time?  Are you looking for effective solutions that will bring only stable profits?;
Procurement manager. Do you have to please your management by seeking optimal offers of "price-quality,"and establishing and keeping relationships with suppliers? Throughout its existence,  GlоbeCоre has established  friendly corporate and personal relationships with their customers from more than 70 countries worldwide;
Food production technologist. Do you want the food prepared in accordance with your recipes to be tasty?;
Chief cook. Do you need to increase the regularity of your own production of the desired range and quality in accordance with the production task?
If you answer "yes" to some or all of these questions, then you are on the right path!  Order GlobeCore food containers with mixers! They will help to solve any of your production tasks!
We provide maintenance services and have a warehouse of spare parts.  We are always ready to help you!
What do you need to do to have our equipment at you facility?
contact us via e-mail or call us and we will consider your order;
we will make an offer, quotes, and terms;
if possible, meet with you at the factory: and
produce and commission the unit at your facility.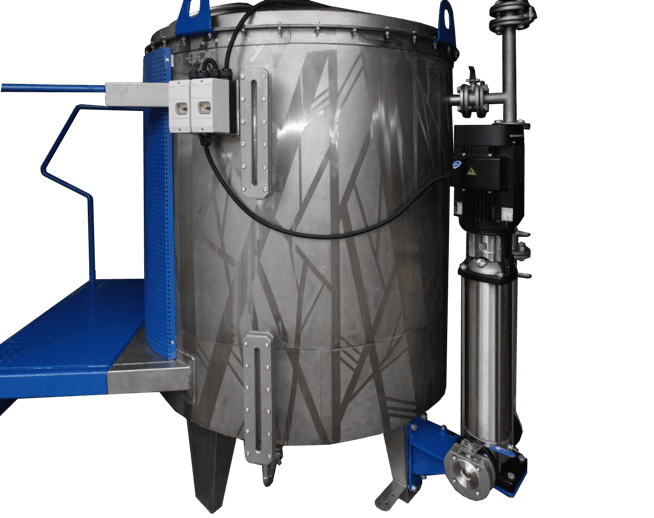 he following is the list of benefits of GlоbeCоre containers with mixers:
equipment can be integrated into existing production lines;
a container shell is made of stainless steel that makes it resistant to corrosion;
trouble free operation;
special housing that prevents the operator from getting burned;
short delivery terms;
competitive price;
possibility to get competent engineering advice either before the equipment purchase or during maintenance;
parts and construction materials from leading manufacturers;
performance characteristics of the final product meet or exceed the highest world standards;
energy efficiency; and an
automated technological process.
Technical specifications of a container with a mixer
No

Name of Characteristic

Value

1
Performance, m3 per hour

3

2

Capacity, m3

– full

– operative

1.7

1.0

3
Set power, kW

5.2

4
Dimensions (mm)- Length- Width- Height

2450

1550

2270

5
Weight, kg

560
Questions you may have:
(1) I did not find a container with an agitator of the desired capacity. What should I do?
GlobeCore equipment can be custom-made, so we can manufacture containers with mixers of any capacity and design.  As a first step, contact us and specify all equipment operation practices. Our engineers are always ready to offer the best solutions.
(2) What is the unit production time if it is an individual order?
If it is an individual order, the unit production time is no more than 45 days.
(3) What is the guaranteed use period?
The guaranteed service life of equipment is 12 months.
(4) Is it possible to manufacture equipment from other types of steel or its alloys?
Yes, it is.
5) Can a container with an agitator be equipped with additional units?  
Yes, it can. To meet an individual customer's order, the unit may be equipped with frequency converters and sensors.
If you still have questions, we are happy to answer them.
Please contact us on one of the contacts.