CMM-6RL dark diesel fuel polishing machine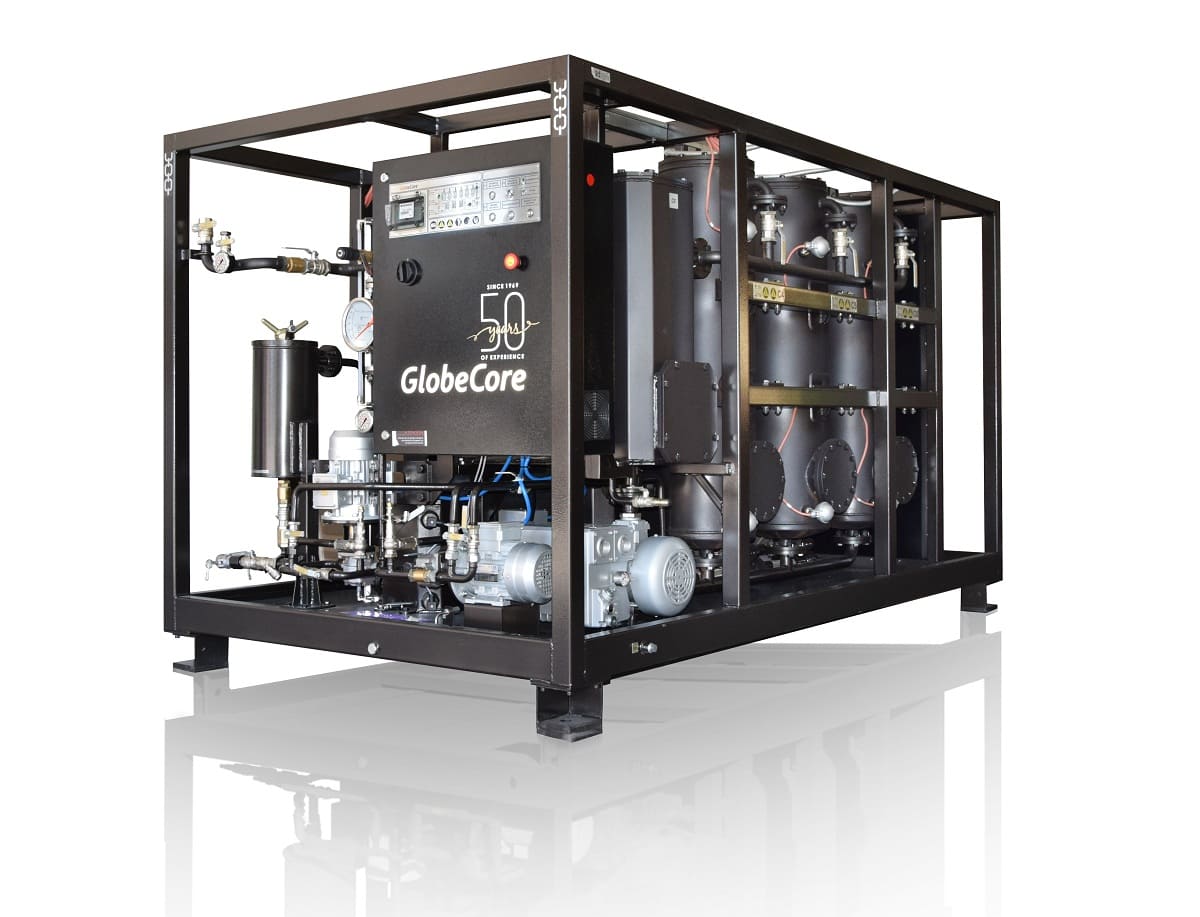 Diesel fuel is used in many industries. Its consumers include ships, tractors, harvesters, trucks, diesel trains, etc. Many enterprises try to purchase large batches of diesel fuel in order to insure themselves against seasonal price fluctuations and to avoid overpaying through the use of warehouse inventory of the petroleum product.
During long-term storage, not all types of diesel fuels feature the required stability. Diesel fuel undergoes oxidation, water ingress, and formation of resinous substances. As a result, the fuel turns dark and loses its operational properties. Such fuel cannot be used, because it will impair the engine operation due to resinous deposits in the engine fuel supply devices, as well as soot caking on the walls of combustion chambers, exhaust valves, and nozzles, and water will render the high pressure fuel pump inoperative. Therefore, such fuel should be prepared before feeding into diesel engines and power plants.
Diesel fuel polishing
Various methods are used to purify diesel fuel after long-term storage: settling, filtration, centrifugation. These methods are suitable for removing the mechanical impurities and water; however, they are unable to restore the original color and smell of the fuel, as well as to reduce the sulfur content. This requires using additional purification by means of special adsorbents of natural origin.
CMM-6RL unit for dark diesel fuel polishing
The technology for adsorptive dark diesel fuel polishing is implemented in CMM-6RL unit. The unit consists of six columns each of which is filled with an adsorbent having good absorptive properties. When passing through the columns, the adsorbent captures unsaturated and aromatic hydrocarbons, asphalt-resin substances, sulfur-, nitrogen- and acid-containing compounds from the fuel. Diesel fuel is clarified, regains its group composition and operational properties.
After saturation of the adsorbent, СMM-6RL unit switches to the reactivation mode. In this mode, the adsorbent properties are reclaimed after which the adsorbent is reused for diesel fuel polishing.
Operation features of CMM-6RL unit for diesel fuel polishing
The main feature of CMM-6RL unit is the possibility to reactivate the adsorbent without removing it from the regeneration columns. If the used adsorbent should be disposed of in other equipment of a similar intended purpose, GlobeCore technology ensures reclamation of the adsorbent by burning, as well as repeated use thereof for diesel fuel polishing (at least 300 reactivations).
Duration of operating cycles and power consumption
CMM-6RL unit for diesel fuels polishing sequentially operates in the following modes:
Fuel polishing (duration — 6 h, power consumption — 1.5 kW/h);
Adsorbent reactivation:
preparation (duration — 1 h, power consumption — 6.25 kW/h);
adsorbent ignition (duration — 1 h, power consumption — 17.5 kW/h);
adsorbent combustion (duration — 15 h, power consumption — 25.5 kW/h);
refilling (duration — 0.5 h, power consumption — 6.5 kW/h).
No.

Parameter

Value

1
Capacity, m3/h

0.45*

2
Sorbent reactivation time, not more than

19 hours

3
Required power consumption, kW

14.5

4
Three-phase 50, 60 Hz AC power supply voltage, V

380

5
Dimensions, mm, not more than

– length

– width

– height

2820

1570

1520

6
Weight, kg, not more than

2100
* – in order to obtain the best result of dark diesel fuel polishing, it is recommended to first remove mechanical impurities by means of CMM-4.0F unit and water — by means of CMM-1.0CF unit.
Convenience of operation. The unit is quickly connected to tanks for clean and dirty oil through camlock quick couplings; the oil purification process is visually monitored by means of sight glasses; a service hatch is provided at the bottom of the columns for their maintenance and cleaning.
The unit can operate in automatic mode. The required operating mode is selected, and the actuators are controlled from the touch panel which displays a mnemonic diagram of the unit. In order to enable the control buttons, the operator just needs to touch them.
The adsorbent is reclaimed without being removed from the unit and can be used for the next regeneration cycle immediately after cooling. At the end of the last reactivation, the adsorbent can be used as a construction aggregate or in agriculture to loosen compact soils.
There occur no harmful emissions into the environment during the unit operation. The unit is equipped with a two-stage system for neutralization of combustion products which consists of a carbon filter and a catalytic converter.