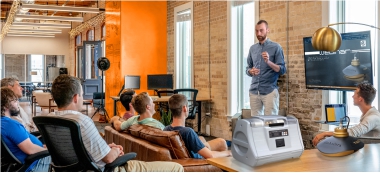 GlobeCore Tech School
During the time of its existence, GlobeCore has accumulated significant practical experience in the field of transformer operation and maintenance. Until recently, we shared this experience in a framework of seminars and conferences held in various countries.
We believe the COVID-19 pandemic must not stand in the way of sharing knowledge. Therefore, our company is holding a series of webinars under a common title of GlobeCore Tech School, in which we will look into both the basic processes of the transformer lifecycle and practical considerations. This knowledge will help to look at transformers from a different perspective and to extend transformer lifetime.
Who would benefit from the GlobeCore Tech School webinars?
The seminars are aimed at everyone who professionally works with transformers: management of electrical companies, engineers, electricians, service companies, university students etc.
What's the cost of participation?
There is none. Participation in the webinars is free. All you need is registration in Zoom and an Internet connection.
How often are the GlobeCore Tech School webinars held?
Ten webinars are planned for the next twelve months.
How do I find out about the next webinar?
The next webinars are announced in the news section of the globecore.com website, as well as on social media (GlobeCore in LinkedIn, Facebook and Twitter). You can also receive news updates by subscribing to our newsletter.
Do I receive a certificate of participation from the webinars?
Yes. Certificates are issued on request. The document may certify participation in one of the webinars or a general certificate after the entire yearly cycle.
How can I receive the webinar materials?
All participants can receive the presentation and a recording of the webinar on written request.
Please direct your questions and comments to [email protected].
Topic

Diagnosing a transformer with the Duval's triangle

Topic

Dielectric Oil Regeneration

Topic

Vacuum processes for transformer repairs and servicing

Topic

Transformer Maintenance

Topic

Oil Testing Equipment

Topic

Breakdown Voltage testing online

Topic

Measurement of Hydrogen and humidity in transformer oil

Topic

Vortex Layer Devices: Intensifying reagent methods of Cr6+ and heavy metal removal from wastewater

Topic

Lifetime Transformer Monitoring

Topic

Production of Modified Bitumen: the Modern Approach

Topic

Wind Turbine Maintenance

Topic

Dielectric Oil Regeneration: An In-Depth Look

Topic

New applications of bitumen emulsions

Topic

Ultrafine milling in the food industry

Topic

Vacuum ovens. Low frequency heating

Topic

Continuous Drying of Energized Transformer Insulation

Topic

Innovative auxiliary equipment in transformer manufacturing

Innovative auxiliary equipment in transformer manufacturing
Certificates are issued upon request. The document can confirm participation in one of the webinars or a general certificate after a full annual cycle.