USB-2 Bitumen emulsion unit 2 m3/hour production capacity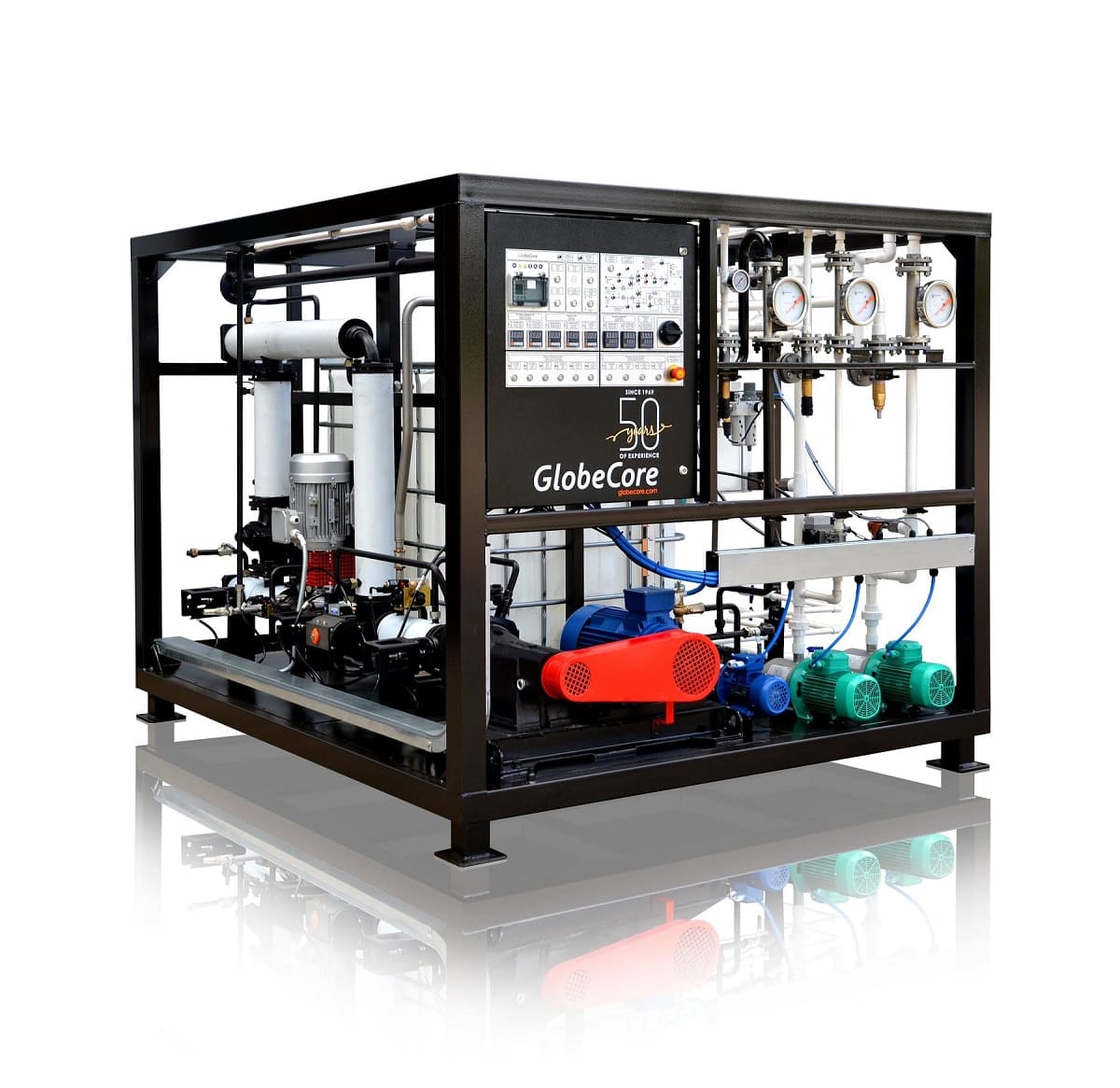 The bitumen emulsion1Bitumen emulsion is a blend of fine beads of bitumen and water. unit consecutively blends components in hydrodynamic mixers2The hydrodynamic mixer is designed for mixing drip liquids in the production process. at certain pressures and temperatures. Due to the unique design, the hydrodynamic mixer instantly blends component streams, which makes the unit compact and reduces energy consumption. The final stage of production of uniform water-bitumen emulsion occurs in a colloid mill3A colloid mill is a machine that is used to reduce the particle size of a solid in suspension in a liquid, or to reduce the droplet size in emulsions., which guarantees high quality of the product.
The unit features process control instrumentation which allows either manual or semi-automatic  operation.
Water-bitumen emulsion is a dark brown liquid. Emulsion is made by dispersing bitumen4A bitumen is a sticky, black, and highly viscous liquid or semi-solid form of petroleum. in water with the addition of surfactants5Surfactants are compounds that lower the surface tension (or interfacial tension) between two liquids, between a gas and a liquid, or between a liquid and a solid..
Bitumen emulsions are indispensable for various road construction tasks. It forms a protective layer for automobile roads (asphalt, gravel or concrete).
Specific areas of application are:
    creation of tack coat for road construction;
    permeation and surface treatment in road top construction;
    creation of thin film wear layers;
    patch repairs (as part of mineral-emulsion mix).
| | |
| --- | --- |
| Specification | Value |
| Maximum production capacity (preparation time included), m3/hour | 2-3 * |
| Minimum bitumen consumption, m3/hour | 1.8 |
| Water consumption, m3/hour | 0.6–2.0 * |
| Flux consumption, dm3/hour | 0–72 * |
| Acid consumption, dm3/hour | 5–20 * |
| Emulsifier consumption, dm3/hour | 5–20 * |
| Adhesion additive consumption, dm3/h | 1–20 * |
| Max bitumen input pressure, MPa | 0.2 |
| Bitumen to mixer pressure, MPa | 1.4–1.6 |
| Water phase to mixer pressure, MPa | 0.2 |
| Bitumen input temperature, °С | 140–160 |
| Water input temperature, °С | 40–60 * |
| Max emulsion output head, m | 15 |
| Max nominal power, kW | 18 |
| Power voltage at 50 Hz, V | 380 |
| Compressed air supply, bar | 4–6 |
| Air consumption, dm3/min | 250 |
| Dimensions (L/W/H), mm | 2080/2340/1934 |
| Max weight, kg | 1200 |
* Depending on process formula
Production of high quality asphalt emulsion regardless of initial bitumen quality by adding plasticizers, adhesion additives and thinners;
Production of all emulsion types, CRS, CMS and CSS-1,2, as well as anionic emulsion of corresponding types, including subtype h;
Blend concentrate is diluted by water directly in the unit;
Safety of operation (emergency interlocks in place);
Emulsion complies with ASTM D 2397-98 and D977-98;
Small footprint;
Simple servicing and operation.