CMM-4,0T Turbine oil filtration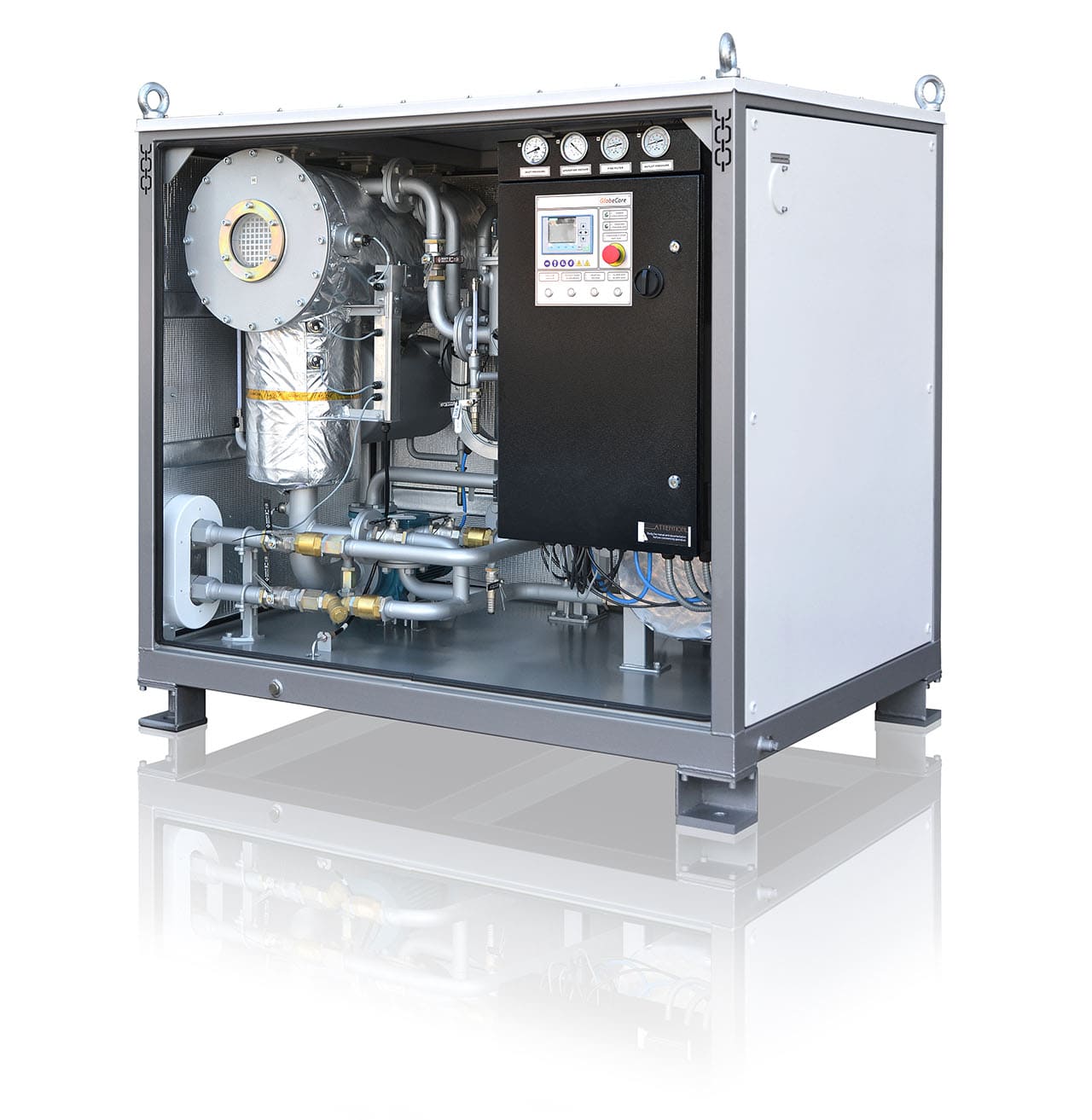 The CMM-4,0T is a Turbine Oil1Turbine Oil – any oil used to lubricate the bearings and auxiliary machinery in steam and hydraulic turbines, in turbopumps, and in air, gas, and refrigeration turbocompressors. Turbine oils are also used as lubricants and working fluids in various types of closed-cycle industrial machinery. Filtration System2Filtration systems remove both large and small contaminants from oil..
The GlobeCore CMM-4,0T mobile oil station is designed for turbine oil treatment. Its purposes are oil purification3Oil purification (transformer, turbine, industrial, etc.) removes oil contaminants in order to prolong oil service life., removal of solid particles and water.
The capacity of the unit is 4m3/hour.
This unit extends the service life of turbine oil, gas and steam machinery, turbine equipment, electric power stations and the other industrial facilities.
Pollution of industrial oil leads to a number of different problems. Oil filled equipment requires proper services.
Oil filtration is a perfect option – instead of buying new expensive products.
The CMM-4,0T Turbine Oil Filtration System can be used for such processes as purification, dehydration4The aim of crude oil dehydration is to remove free water from the oil and then to break the oil emulsions to reduce the remaining emulsified water in the oil. and degassing5Oil degassing is the process of removing undesirable solved gases from the oil (separately or all together).. Evacuation is also possible.
The unit is applicable for turbine oil with viscosity6Absolute viscosity provides a measure of a fluid's internal resistance to flow. not higher than 280 cSt at 50ºС.
№
Parameters
Value
1
Capacity, m3/hour
4
2
Waste oil parameters:

— Mass moisture content, g/t, not more than

— Filtration degree, mkm, not more than

10

5

3
Maximum Oil outlet  temperature, ºС
55
4
Working Pressure, MPa
0,4
5
Working vacuum

– vacuum pump

-0,75 … -0,85
– in a vacuum tank
-0,65 … -0,75
6
Oil heater power, kW
29
7
Oil heater specific power, W/cm2, not more than
1,2
8
Maximum power consumption, KW
38
9
Electric current parameters

— voltage, V

— AC  frequency, HZ

380

50

General dimensions, mm

— overall length

— overall width

— overall height

2060

1130

1980

11
Weight, kg,
700
At the request of a customer a unit can be:  stationary  (in a container on a frame, under a tent) or mobile/portable  (on wheels, on a trailer).
Easy to operate.
After purification oil characteristics fully correspond the existing norms and standards.
Saves storage space for waste oil.
Saves costs on buying new oil and recycling waste oil;
Preserves environment
Energy efficient.