SBE-30 BITUMEN EMULSION COLLECTION TANK (UVB-1)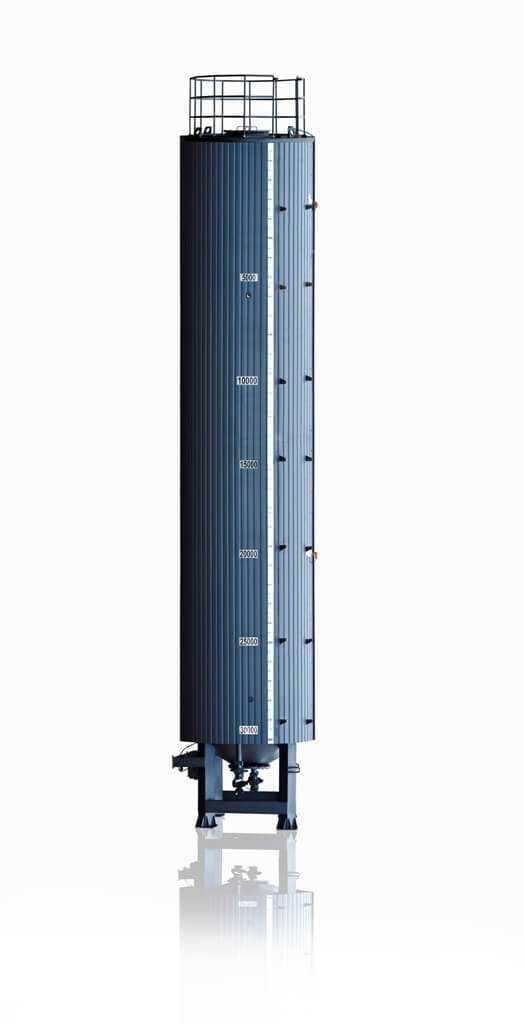 The SBE bitumen emulsion1 collection and storage tank is designed for storage of bitumen emulsion produced with the UVB-1 bitumen emulsion unit. It can be supplied with an agitator2 or with a circulation pump. The system is equipped with Dinel and Wika temperature and level sensors, as well as overflow sensors.
The bitumen3 collection vessel consists of the following components:
Bitumen emulsion collection tank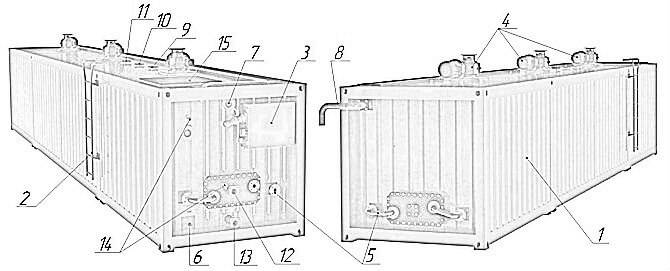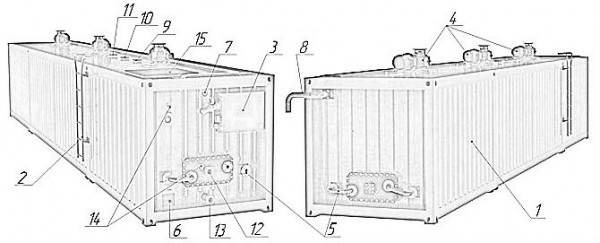 Unit general view: 1 – vessel in frame; 2- service ladder; 3- control cabinet; 4- agitators with drives; 5- heat carrier circulation system (heat exchanger); 6- level sensor; 7- emergency overflow sensor; 8- overflow connector; 9- loading connector; 10- circulation connector; 11- reserve connector; 12-output connector; 13- drain connector; 14- temperature sensors; 15- view hatch
A horizontal insulated vessel pos. 1, made of structural-grade steel, with heat carrier circulation system pos.5. In the lower part of the tank is an output connector pos.12, through which bitumen is discharged to consumers, and a drain connector pos. 13.
Inside the tank there are vane agitators, pos. 4, with drives on the roof of the vessel.
For control of bitumen level in the vessel, a level sensor pos. 6 is installed. To further improve reliability of the vessel, a reserve level sensor (emergency sensor), pos. 7, is installed, which stops the input pump automatically when this level is reached. An overflow connector is installed in the back wall of the vessel, pos. 8.
Control cabinet pos. 3 facilitates control of the unit.
A service ladder is installed on the side of the vessel, pos. 2.
Three input connectors are installed on the roof of the bitumen storage tank: for loading of bitumen (pos. 9), for bitumen circulation (pos. 10) and a reserve connector, which can supplement the main loading connector
Thermistors are installed in the top and bottom parts of the vessel to monitor temperature, pos.14.
The heat carrier circulation system consists of pipelines and insulation jackets. The system can be connected to the process heating system of the facility or a stand alone heater. Industrial oil with operating temperature t = 190 °С is used in the system.
The front of the vessel is equipped with a bimetallic thermometer for additional temperature control.
For visual control of the liquid level in the vessel, a hatch is installed on top of the vessel, which can also be used for servicing the vessel internally.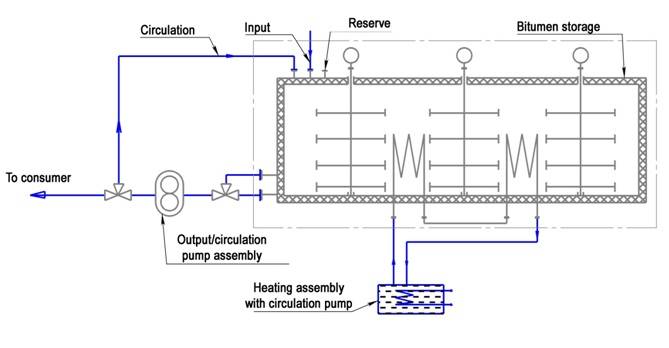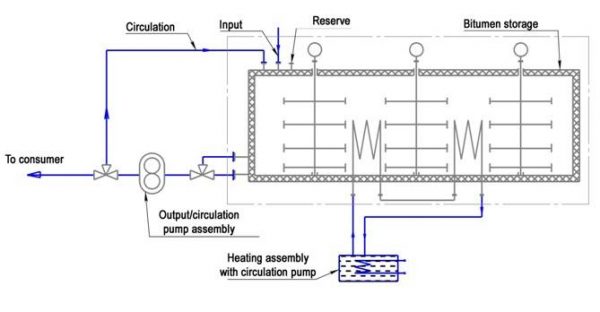 Connection diagram
Bitumen Emulsion Storage Vessel
| | | |
| --- | --- | --- |
| Specifications | SBE-15 | SBE-30 |
| Minimum total volume, m³ | 16 | 33 |
| Minimum usable volume, m³ | 15 | 30 |
| Electric power | | |
| | 380 | 380 |
| | 50 | 50 |
| Dimensions (L/W/H), mm | 2100/2100/6400 | 2448/2400/11700 |
| Max weight, kg | 3000 | 7000 |
| Max full loaded weight, kg | 18000 | 37000 |
size adapted for transportation by sea.