CMM-600CF TRANSFORMER OIL FILTRATION AND REFILLING MACHINE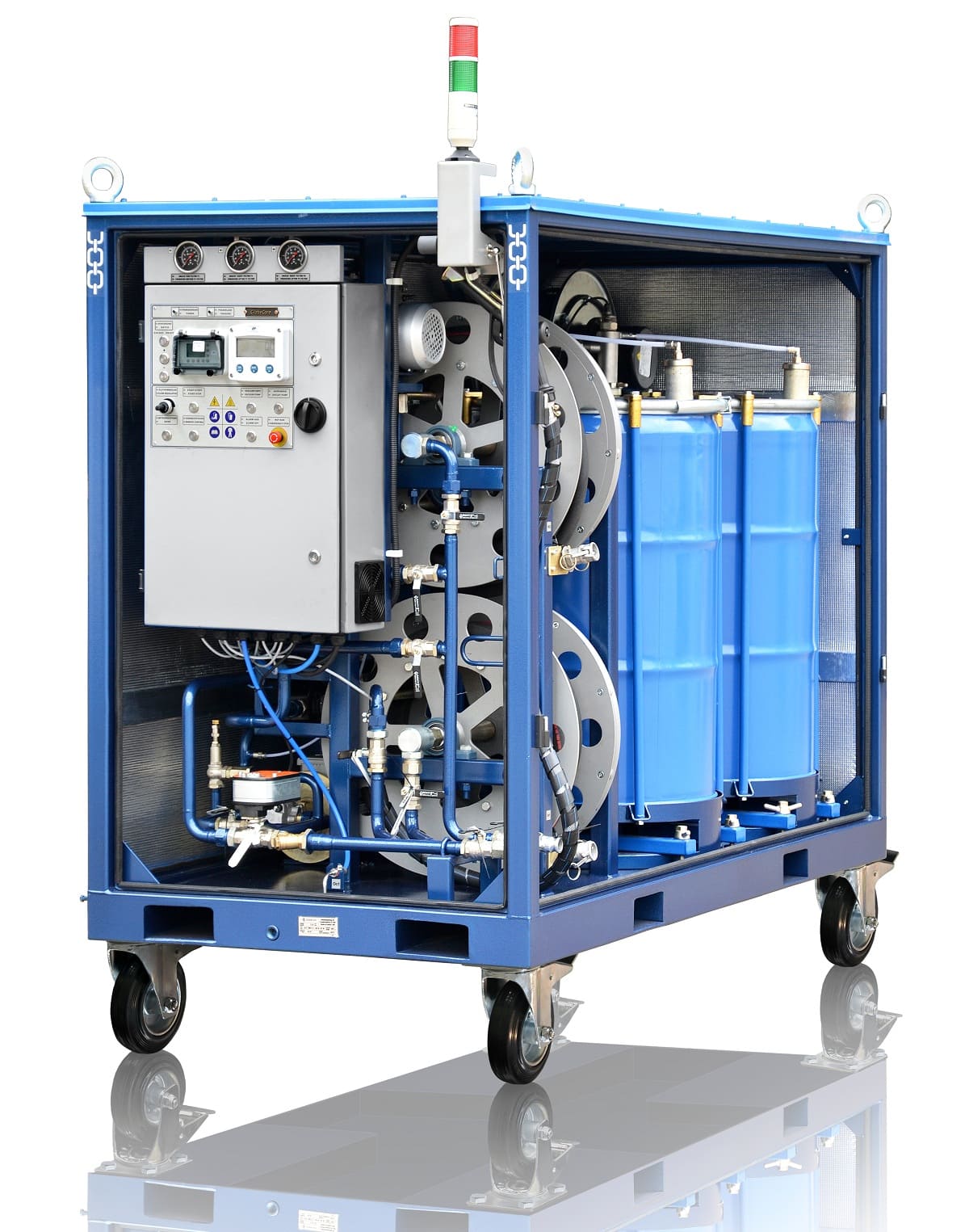 The machine is designed for transportation and filtration of mineral and synthetic electrical insulation oil and for adding oil to transformers.
Design
The machine is built on a wheeled frame with a hitch for towing on hard surfaces.
The machine includes two 200 liter (52 gallon) containers for oil storage and transportation. Pumps are installed for oil transfer.
Operation
The СММ-600CF machine purifies transformer oil by combined effects of filtration, heat and vacuum. The system is equipped with five filters:
a mesh filter for large particles;
a coarse inlet filter;
a fine filter at the outlet;
two filters to remove water entering the oil from the air.
Air bubbles are removed from the oil in the vacuum chamber.
Safety
Operation is managed by a PLC controller, which can identify the following faults:
frequency converter not ready or motor protection trips;
oil spill;
level sensor disconnect;
overflow in either of the containers;
vacuum chamber level sensor fault;
foam sensor activation in the vacuum chamber.
Any of these faults stops the machine. This condition is signaled by a sirene, a flashing light in the corresponding button and a text message on the controller screen.
Who this equipment is designed for
The СММ-600CF is designed for clients who specialize in transformer and other oil filled equipment servicing and repairs (including high voltage switches, OLTC, oil reactors etc).
Parameter
Value
Capacity, liters/hour (gpm), max
no degassing
1000 (4.4)
degassing
600 (2.64)
* Output oil parameters:
– ISO 4406 purity class
-/16/13
Output pressure, bar (psi)
2 (29)
Max power requirement, kW
1.55
Power supply
– voltage, V
Fully customizable
– AC frequency, Hz
Dimensions, mm (in)
– length with tow hitch retracted
2200 (87)
– height
1840 (72)
– width
1100 (43)
Max weight, kg (lbs)
850 (1870)
* Note: – with initial oil quality -/18/16 per ISO 4406.
works with both mineral and synthetic insulation oils;
versatility: both purifies the oil and adds oil to transformers;
includes reels for hoses.