CMM-12A DEGASSING UNIT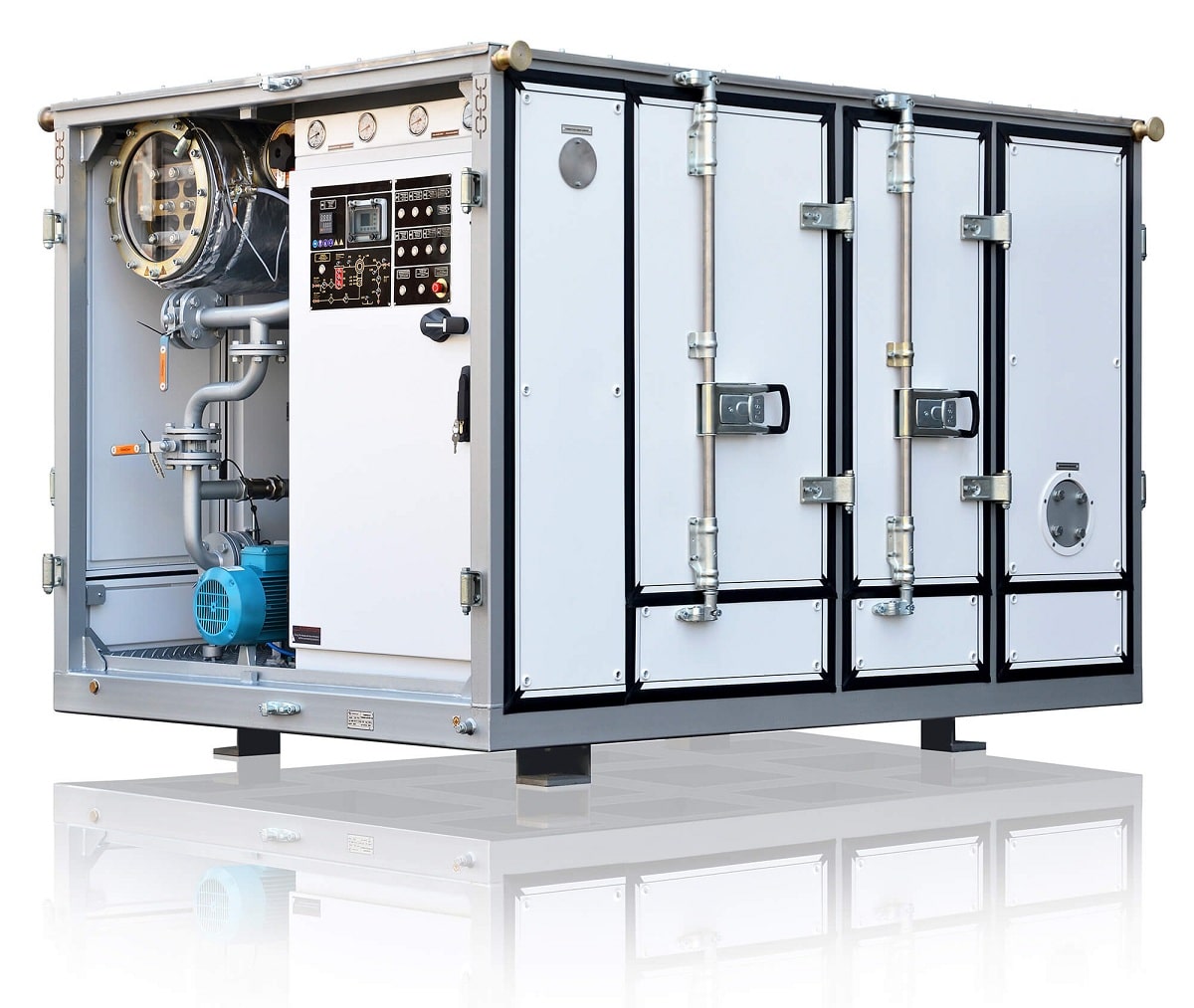 The CMM-12А is designed for degassing, heating and filtration of mineral transformer oil, as well as for transformer evacuation.
Unit composition
The CMM-12A is built in a frame enclosure with lockable doors, and consists of the following primary component parts:
pumps (input, output, vacuum, backing pumps);
vacuum chamber;
oil heater;
filters;
electrical control cabinet;
piping.
Modes of operation
The CMM-12A can be operated in the following modes:
Oil degassing. Oil is pumped through the filter and the heater into the vacuum chamber. The oil is pumped from the vacuum chamber through another filter and to the unit's outlet. The backing and the vacuum pumps create high vacuum in the chamber, which facilitates the removal of gas and water from the oil in the chamber.
Transformer heating. In this mode the oil is pumped through the filter, the heater and another filter to the outlet of the machine. The oil is filtered and transformer windings are heated in this mode.
Transformer evacuation. In this mode the air from the transformer is evacuated by the backing and the vacuum pumps.
Parameter
Value
Capacity, m3/hour (gpm), max
 
– degassing, drying, filtration
12 (52,8)
– heating and filtration
15 (66)
* Parameters of treated oil:
– gas content by volume, %, max
0,1
– moisture content, ppm, max
5
– ISO 4406 purity rating
-/12/16
Max temperature of oil at outlet in heating mode, ºС (ºF)
90 (194)
Outlet pressure, bar (psi)
1,5 (21,75)
Heater power, kW, max
200
Max power requirement, kW
230
Power supply
– voltage, V
415
– AC frequency, Hz
Customizable
Dimensions, мм (in), max
– length
2240 (88)
– height
1500 (59)
– width
1600 (63)
Weight, kg (lbs), max
2200 (4850)
* Note:  
Initial oil parameters:
gas content by volume:  10,5% or less;
moisture content by weight: 0,01% (100 ppm) or less;
temperature: 0 ºС (32 ºF) or above.
The required purity parameters may require several cycles to achieve.
The dimensions of the plant are optimized for air freight. The machine can be delivered quickly to remote areas;
The machine is equipped with a double stage vacuum system. The system creates high vacuum which efficiently dries and degasses transformer oil, evacuates transformers and fills transformers with fresh oil (one machine can perform several tasks);
With the TSS system, the CMM-12A can process oil without the need to drain it from the transformer, and the transformer can be left online. This makes the transformer servicing process faster and guarantees uninterrupted power supply to the consumers.