CMM-1CO Cable Oil Degassing Unit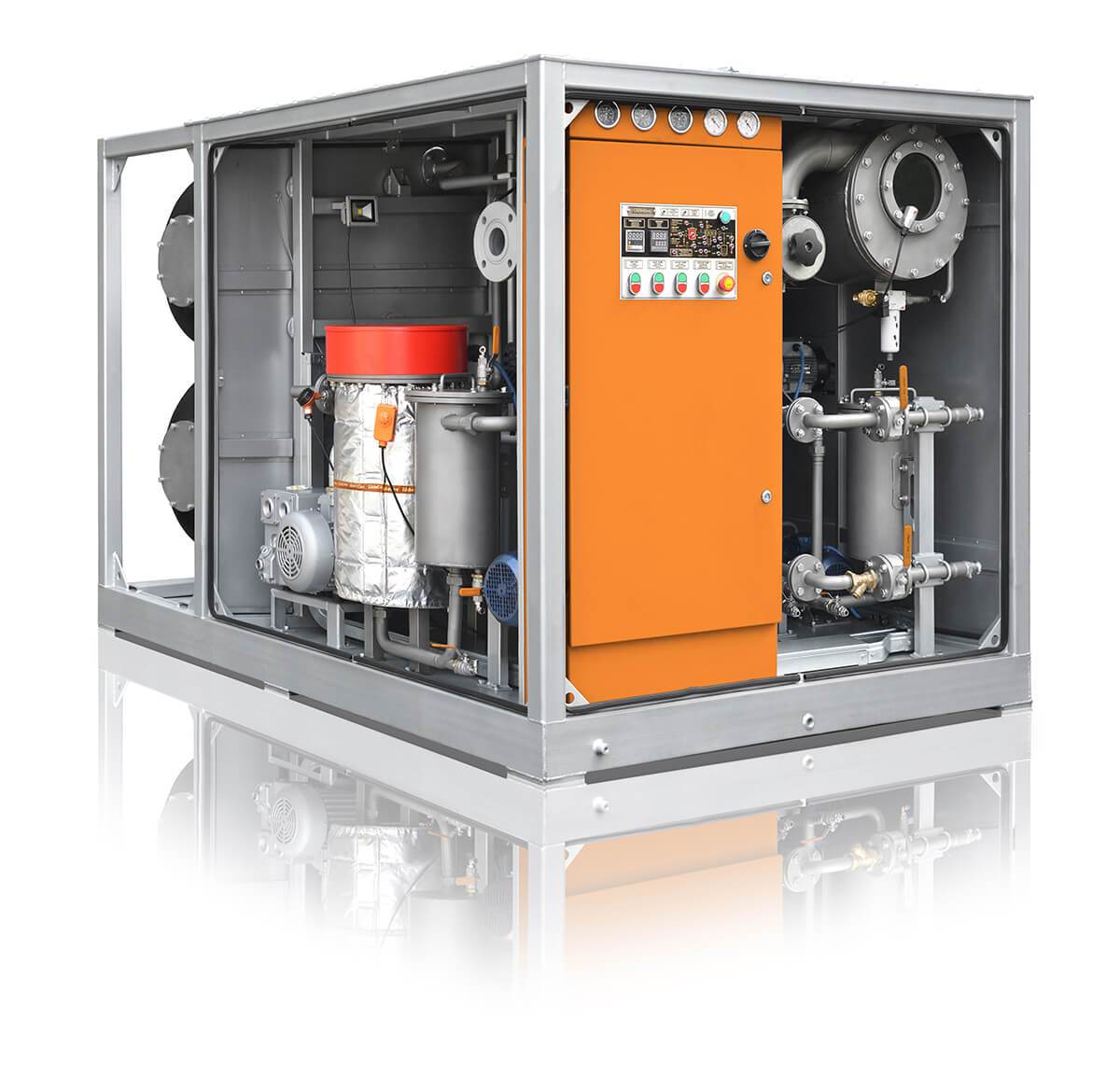 The СММ-1СО is designed to remove solid particles, gas and moisture from cable oil1The cable oil is used to impregnate the paper insulation of cables and to fill the cables., to store portions of prepared cable oil and to add oil to OF cable 2An electrical cable is an assembly of one or more wires running side by side or bundled, which is used to carry electric current. lines with voltage up to 500 kV. The unit can also be used for evacuation of transformer3A transformer is a static electrical device that transfers electrical energy between two or more circuits. and other equipment.
The unit can process cable oil with the following initial quality:
moisture content below 100 ppm;
ISO4

The International Organization for Standardization is an international standard-setting body composed of representatives from various national standards organizations.

4406 purity class -/19/16 or better.
All components of the unit, except for prepared oil storage tanks, are installed in a container. Container front and sides are equipped with access doors for servicing the unit.
The СММ-1СО consists of a vacuum5Vacuum is space devoid of matter. An approximation to such vacuum is a region with a gaseous pressure much less than atmospheric pressure. chamber, an input pump, a heater, an output pump, coarse and fine filters6Filter is a device which separates solids from fluids (liquids or gases) by adding a medium through which only the fluid can pass., a control cabinet, a vacuum pump7A vacuum pump is a device that removes gas molecules from a sealed volume in order to leave behind a partial vacuum. and a backing pump, as well as oil storage tanks.
Parameter

Value

1 Capacity, m3/hour,  not less than

1

2* Processed oil parameters:

– gas content, % vol, not more than

0.05

– moisture content, ppm, not more than

5

– ISO 4406 purity class

-/14/12

– particulate matter, g/ton, not more than

8

– filtration, μm

2

– dielectric strength, kV, not less than

70

3 Oil temperature in heating mode, ºС, not more than

70

4 Filtration coefficient

≥50

5 Outlet pressure, (nominal/max), bar

2/12

6  Oil heater power, kW

18

7 Oil heater watt density, W/cm2, max

1.15

8  Max power requirement, kW

27

10  Oil storage tank capacity,  m3

0.7

11 Power supply

– voltage, V

Custom

– AC frequency, Hz

12  Dimensions,  mm

– length

2450

– height

1700

– width

1550

13  Weight kg

1800
Note –  * Initial oil quality:
gas content below 10.5%vol;
moisture content below 0.01% (100 ppm);
temperature above 0ºС.
one unit for all cable oil tasks: drying and degassing of oil, evacuation of cable lines and filling of make-up tanks;
improved reliability of OF cable line operation;
simple operation and servicing;
can be manufactured in stationary (containerized, skid-mounted, under tent) or mobile (castor wheels, trailer) variants.