MCU Zeolite Oil Drying Unit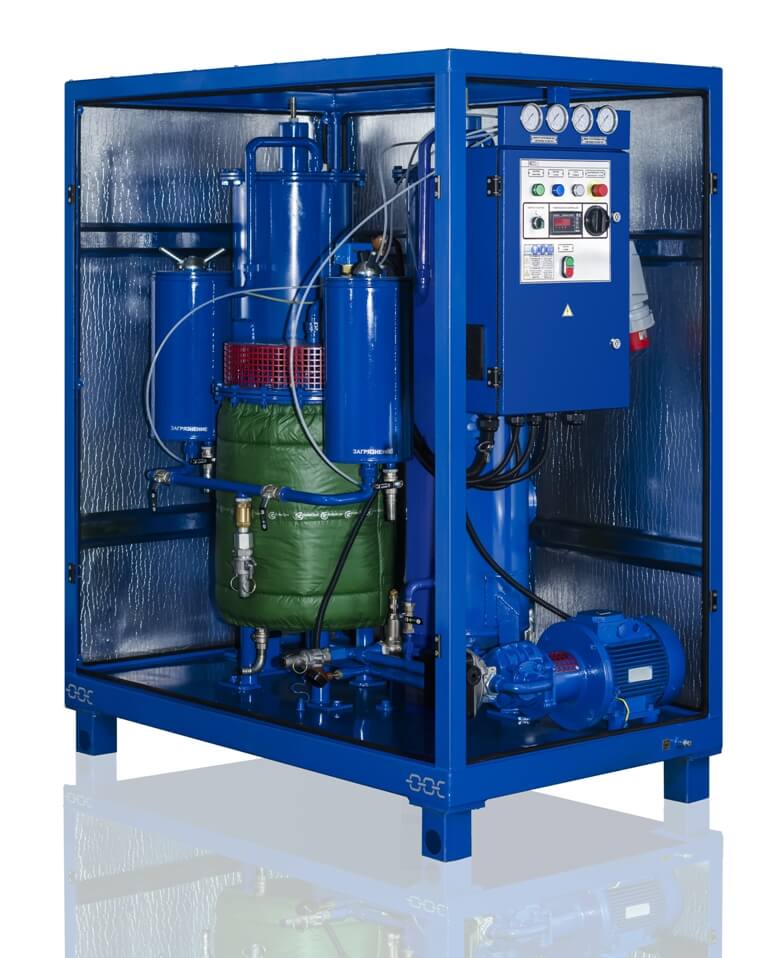 The MCU oil purification1Oil purification removes oil contaminants in order to prolong oil service life.  unit is designed for removal of solid particles and water from dielectric insulating oils2Insulating oil is an oil that is stable at high temperatures and has excellent electrical insulating properties. (with a viscosity3Absolute viscosity provides a measure of a fluid's internal resistance to flow. of no more than 70 cSt at 50°C/122°F.
Additionally, this unit is designed to significantly reduce acid levels in used insulating oil.
The unit is used for installation, repair and operation of high voltage oil containing equipment with voltage up to 1150 kV (power transformers4A transformer is a static electrical device that transfers electrical energy between two or more circuits., high voltage switches5Switchgear is composed of electrical disconnect switches, fuses or circuit breakers used to control, protect and isolate electrical equipment. etc).
The system consists of two separate sections: a BNF heating and filtration section and CP-260 sorbent6A sorbent is a material used to absorb or adsorb liquids or gases. cartridges that which are connected by flexible hoses.
Ambient conditions for operation:
ambient temperature 283 to 308 K (+10 to +35°C/ 49.7 to 97.73°F);
pressure 84 to 106.7 kPa (630 to 800 mm. hg);
elevation up to 2000 meters/6561 feet above sea level;
explosion and fire safe area.
Parameter

Value
MCU-1.7
MCU-4.3
MCU-7
Capacity, m3/hour, minimum/gals. per hour
• drying, regeneration and filtration mode
1.7/450
4.3/1138
1.5-2.0/392-529
• heating mode
1.7/450
4.3/1138
3.6-4.3/953-1138
Max oil outlet temperature, ⁰С/⁰F:
• drying and filtration mode
–
35/95
• heating mode
60/140
65/149
Sorbent max load, kg
–
100
Sorbent regeneration temperature, ⁰С/⁰F:
Zeolite NaA
–
250/482
Silica gel
–
120/248
Sorbent regeneration without unloading
No
Yes
Processed oil parameters:
• industrial purity class (ISO 4406)
9 (-/14/12)
• solid particle content, max, g/t
2.5
10
• acid number, mg KOH/g of oil, max
–
0.02…0.05
• nominal filtration fineness, micron
5…25
5
• mass weight content, g/ton per cycle, max
–
10
• dielectric loss tangent at 90 ⁰С/194 ⁰F, max
–
1.5
• dielectric strength, kW, min
–
65
Mean heater surface power, W/cm2, max
–
1.2
Heater power, kW, max
–
28.8
Max power consumption, kW
33
Three phase AC power voltage, 50/60Hz, V
380/220
380
Dimensions, mm/ft, max, length/width/height

1270/700/1400

4'16"/2'29"/4'59'

1270/700/1500

4'16"/2'29"/492"

1500/900/1735

4'59"/2'95"/5'69"

Weight, kg/lbs, max
500/1,105
550/1,215.5
7501,657.5
dielectric strength of transformer oil increased from 5-10 to 50 kV and above after only one pass;
silica gel can be used instead of zeolite to reduce oil acidity;
zeolite can be restored without removal of zeolite cartridges using a BRZ unit;
simple operation and servicing.